Leonie Senden – Franssen (Vocals / Guitar)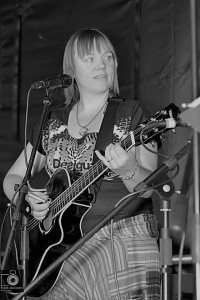 My name is Leonie Franssen. I was born on 22 September 1982. I've always had a passion for music and in 2009 my dream came true  when I made  my own album called  'My Wish'. Shortly after that I was invited to  an audition and became the lead singer of a folk band called 'Sally Goodin'. For me this was the first moment I got to know more about folk music and I felt a deep connection with this pure music. During the 'Sally Goodin' period I  learned more about American and Irish folk. We recorded an album called ' Rusty  Door and a Fallen  Star'. After Sally Goodin had split up it was time for a new project. I focussed on my solo career, but I couldn't let go the beautiful folk songs and I missed the sound of the pure instruments around me. Together with a few friends we had some jam sessions at home and after a while a few people asked me to join their Bluegrass band  'Blue Hill Moonshine'.
I really love Bluegrass, but I also missed the Irish songs. Later the soundman of Sally Goodin, who is also a great banjo player, visited me and we played some old songs together. It didn't take long before Skibbereen was born!